Terry MacDonald was recently recognized as a "Women of Excellence" by the Sarnia Community Foundation.
Congratulations Terry!

 Randy Hills was recently recognized at the OGRA Conference for his 33 years of dedication to the Municipality of Brooke-Alvinston. We wish him and his wife Norma all the best. Congratulations!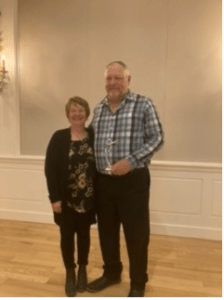 Notice – New to Sarnia-Lambton?
The Municipality of Brooke-Alvinston was awarded $19,400 from the Judith & Norman Alix Foundation to provide resurfacing to the Inwood Community Park Basketball Court. Mayor Ferguson stated that "We are pleased to receive support from the Alix Foundation to beautify our community and upgrade the space for our residents to enjoy" Pictured here are Warden Marriott, a member of the Judith & Norman Alix Foundation and Mayor Ferguson.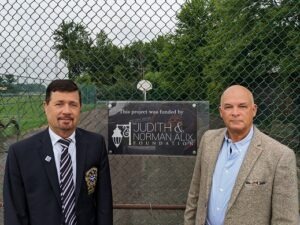 In recognition of the Queen's Jubilee, the Municipality received funding through the Celebration and Commemoration Program – Canadian Heritage.  In conjunction with the Alvinston Legion, beautiful enhancements were made to the cenotaph. A rededication of the cenotaph was held July 9th.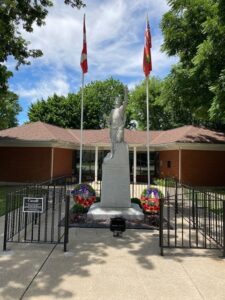 Congratulations Aurora on your recent award from Libro Credit Union!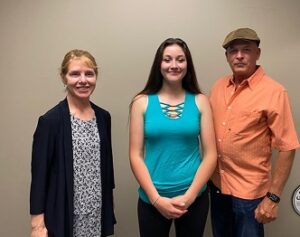 Norm Triest is this year's Senior of the Year.
Congratulations Norm!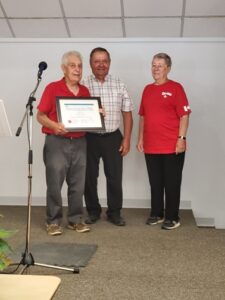 Notice – Brooke Alvinston Community Fund
Check out what Locally Lambton has to offer!    https://locallylambton.co
3236 River Street, Alvinston, Ontario
Phone: 519-898-2173
Fax: 519-898-5653
The Municipality of Brooke-Alvinston located in eastern Lambton County, is 311 square km in size with a population of 3,000. This rural community is service by the urban centers of Alvinston and Inwood.  The Municipality is close to the large urban areas of Sarnia (35 minutes), London (45 minutes) as well as major transportation routes.
Alvinston is a fully serviced redeveloping urban area with restaurants,  bank, farm machinery dealership, modern machine shop, plumbing and heating shop as well as church's, library, active Legion and post office. Alvinston is home to a commercial honey processing facility which produces award winning mead (wine). The Brooke – Alvinston – Inwood Community Center is located in Alvinston. This modern complex contains an arena, auditorium with banquet facilities for 500 and several meeting rooms. It is home to figure skaters and minor hockey. Located near by is the A.W. Campbell Conservation Area that offers camping, swimming, walking trails and picnic areas.
Inwood is as well a fully serviced redeveloping urban area with several businesses and is home to Brooke Telecom, a publicly owned telephone system offering regular phone service as well as cell phone, high speed internet and cable television services.
The rural agricultural area surrounding these centers is productive soil, managed by innovative food producers. Crops include wheat, soybeans, corn and specialty beans. As well there are many extensive livestock operations.