Community Group Yard Sale, May 27th-  Click here to view details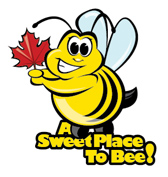 Aim – To bring pride back to Alvinston
Started – November/2007 with about 12 people attending.  Approximately 35 people have joined us at our monthly meetings, which are the fourth Wednesday of each month.  These are held in Council Chambers at The B.A.Municipal Building at 7:00 p.m. Working closely with – Local businesses, Optimists and Council.
"NO MEMBERSHIP FEE"
Accomplishments
The bi-monthly calendar listing local events in town
A welcome kit distributed to new homeowners in town
A new "Welcome to Alvinston" sign on the south of end of River Street.
(One will be put in the north end when construction ends)
A new theme for town "Alvinston – A sweet place to bee"
Libro Community Sports Park
Incentive to encourage external improvements, we organize "Spruce Up" event.
Random Ballots are drawn and each winner receives $50.00.
Sponsor 2 Flower Hanging Baskets each year.
Had Bee logo produced as temporary tattoos to be given away at local events .
Organized and conducted the multiple Alvinston Business Survey to identify future needs.
Develop the green space into a small park .Looking for small gardens, benches, tables, etc.
Worked with the Municipality, who submitted an application& won Provincial Bronze Award as "Youth Friendly"
 As a fundraiser have worked at the large item drop off and were in charge of the tire recycling area.
Have sold flower bulbs both as a way to help bring pride to a home but also as a fundraiser over a 3 year period.
With donations from businesses, organizations, private individuals and our fundraising dollars we were able to have
a large wooden gazebo built. Received a donation from Bluewater Power to help with cost to have hydro installed
at the Gazebo and Alvinston Community Park.
Applied for and received Grant from the Trillium Foundation to further expand the Green Space/Alvinston
Community Park area by adding more benches, games table, toddler swings with rubber matting under them,
more flower gardens and shrubs added, new flag poles, information bulletin board, new trees, spring bulbs were
planted, sidewalk leading to Gazebo and installation of a recycling /waste disposal unit.
Developed Alvin the Bee Information Sign for Community Events and Information. A sign with Alvin's history was erected and
landscaping was completed around him.
On-Going Initiatives
Looking for a way to contact people who may need help with their own property, but are unable to do things themselves.
Continuing to update a booklet listing all businesses & their phone numbers, local events, emergency numbers, etc.
Community group link through new Town website
Participates in Classic Vehicle & Antique Tractor Show, and hands out free tattoos, having a display table and collecting
donations in the evening for fireworks during Canada Day Celebrations.
Participates in both the Fall Fair and Christmas Parades with our floats.
Holds a yard/garage sale each year with the support of donations from the Community.
Design, built and maintained gardens for the area around the Gazebo.
Fundraising
Spring/fall flower orders from the community
Initial grant to get started from the Optimists
Donation from a helpful citizen
Businesses paying to advertise on the back of the monthly event list
Municipal contributions – operating grant for community projects, signage and labour/equipment assistance with Sports Park.
Annual yard/ garage sale in May.
Everyone is welcome to attend our meetings. The more ideas we have, the better Alvinston can become! Please support us in any way you can – time, money, ideas, connections – we will certainly appreciate it all.